I haven't really had time to blog in a while so I have some catching up to do. Since I last wrote, we had two separate visits from out of town family. Unfortunately I only got pictures with one. Our cousins from Japan had come to the states for a visit pretty much the whole month of March. Since Bryson made is grand appearance late, I never felt like leaving the house to go visit them, and I think their family was sick too. They are thinking of moving back to the states in Atlanta so before heading back home they went to Atlanta to check things out. They stopped by my parents house on the way. It was so great to see them and their kids. We had only seen their oldest, Leo, one time and this was our first time meeting their daughter Maya. This was also their first time to meet my nephew Will and of course their first time to meet Bryson. Here are a few pictures from that day.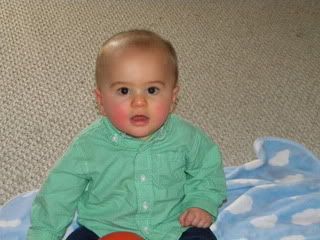 Will having fun in the floor
It was hard to get a picture of both boys but this one's funny because it looks like Bryson is dancing!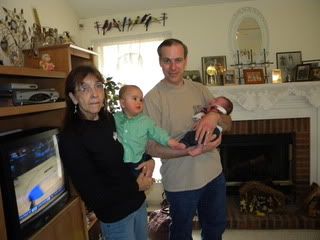 My mom and Mike with the boys
Getting a picture with 4 kids is even harder!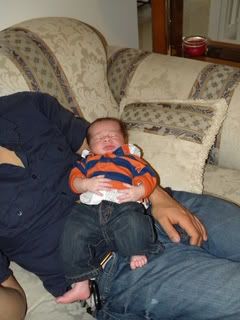 Bryson was wore out!
We also had a visit from my aunt and uncle from Huntsville. They came down to give my dad a computer and help him set it up, but of course I forgot to take picures. After leaving my parent's house for this visit, we headed to Peter and Kate's engagement party. This was Bryson's first party so we were excited. Peter and Kate are getting married in her home town of Auburn and since we are all big Auburn fans, we had to dress Bryson up in his Auburn gear. Of course I didn't get any pictures of him and the one's I took of the party are not that great. I really need to get better about taking pictures of things other than Bryson!